Sensei Justo Gómez will teach seminar in Curitiba capital of Paraná state of Brazil during the ITKF World Championship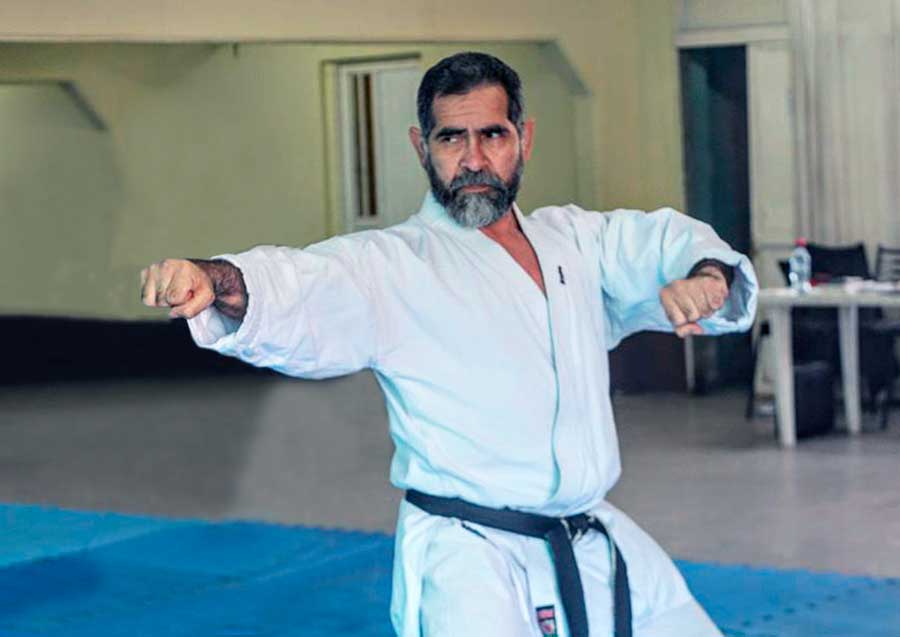 Sensei roku-dan (6th dan) Justo Gómez
The iconic Sensei Argentine seven times world champion and three times Pan American kumite, kata and fukugô teacher will be one of the speakers at the technical seminar to be held in December, in parallel to the world championship.
XX ITKF Traditional Karate World Championship
November 17, 2019
By PAULO PINTO I Photos DISCLOSURE
Curitiba – PR
The XX World Traditional Karate Championship and the V Interclub World Cup will be held from December 2nd to 8th at the PUC-PR gymnasium in Curitiba, and at the same time there will be technical seminars and arbitration courses, scientific congresses, meetings about the University of Karate. Traditional and technical and administrative committee meeting, in addition to the continental assemblies and the general assembly of the International Traditional Karate Federation (ITKF).
One of the guest speakers is renowned professor sensei roku-dan (6th dan) Justo Gómez from Formosa, Argentina, who revealed to Budo all the joy in contributing to this moment of traditional karate.
"It is a great honor to have been invited to give a technical seminar during the ITKF World Curitiba 2019. I am sure that events like this are essential for the training and technical development of traditional karate practitioners. Not only as karateka, but also as individuals,"said Gomez.
The iconic ITKF professor told Budo that in his course he will discuss the use of the internal force produced by the Hara (abdomen – pulsating center of life) through the use of breath and the transfer of force to the opponent.
Director General of the Shotokan Justo Gómez Traditional Karate School, based in Buenos Aires and its         Affiliates        branches and in nine ITKF member countries in Africa, Europe, Asia, Central America and South America, Sensei Gómez spoke about the Argentine delegation to come to Curitiba in december.
"We are working to bring about 70 people to Paraná. Everyone is training very hard and preparing to compete in the World Cup and win many medals for Argentina", he said.
Evaluating very positively the holding of events such as the World Championship of Traditional Karate and the World Cup Interclubes, the multimedalist highlighted the need to exchange information and knowledge, through the competition of kata and kumitê.
"We need to attend major international events to broaden our technical base. Facing and knowing karateka from other schools and different countries, we SEE make the important exchange of information that allows us to expand the knowledge and FUNDAMENTALS foundations we have. Both victory and defeat will help to forge our character and stimulate self-improvement", explained the seven-time world champion.
"I look forward to sharing my experiences and enriching myself with each participant's experience. Just like meeting those who have allowed me, thanks to my generosity of spirit, to be who I am today, "said sensei Gómez. Finally, he made an important suggestion to the younger karateka: "Remember the shared moments and build new memories and teachings that will undoubtedly enrich the common path."
Born on April 8, 1966 in Formosa, Argentina, Justo Gómez began the practice of karate at the age of 10 and, due to the knowledge gained from living with the master juu-dan (10th dan) Hidetaka Nishiyama, taught formation and improvement courses traditional karate coach in Europe, North America, Asia, Africa and South America.
Among the main titles won by the argentine multimedia player are the 1991 World Cup in Milan, Italy; Toronto World Cup 1992 in Canada; Treviso World Cup 1994 in Italy; World Cup in Moscow 2000, Russia; Ferrara World Cup 2001 in Italy; Saskatoon World Cup 2001 in Canada; and Warsaw World Cup 2007 in Poland. He also won the 1991 Pan American Championships in Cuernavaca, Mexico; 1993 in San Juan, Puerto Rico; and 1995 in Buenos Aires, Argentina.